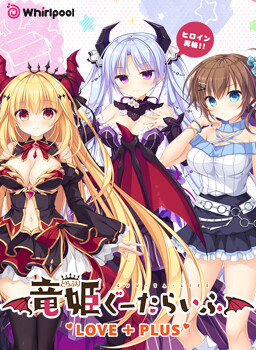 Description & Story
Slobbish Dragon Princess LOVE + PLUS is a fan disk visual novel by the developer Whirlpool and published by Sekai Project. The original Japanese name is "Drapri Guu-ta-life Love + Plus".
This visual novel is for fans of the original title, Slobbish Dragon Princess, as it features the same girls. Fans who enjoy dragon lovers and childhood friends will also enjoy this short title.
There are 3 girls to choose from but each route is pretty short because this is a fan disk. If you aren't familiar with the original title, it's highly recommended you play that one first. But if you'd rather not, there is a story summary so you won't be in the dark. Completing all 3 routes will unlock a complete and uncensored CG gallery.
The extra menu has still gallery and replayable scenes as well.
Story / setting
The most loveable dragon princess is back in a new fan disk story! Spend some more time with the beautiful and innocent Haru and childhood friend Suzuka. And, as an added bonus, get to know the mysterious Dorami in an all new route just for her!
Sample CGs
Slobbish Dragon Princess LOVE + PLUS English Download Edition

Slobbish Dragon Princess LOVE + PLUS is available for download on Denpasoft and Steam. There's also a free 18+ upgrade DLC is also available for download here. 
Walkthrough
http://www.otakulair.com/english-visual-novel-walkthroughs/slobbish-dragon-princess-love-plus-walkthrough-whirlpool-sekai-project/