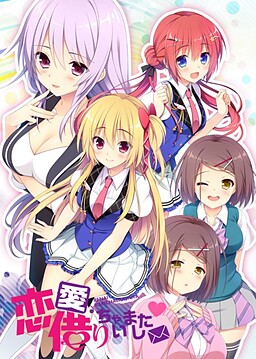 Aliases:
こいかり
れんかり
Renkari
Description & Story
Renai Karichaimashita: Koikari – Love For Hire is a visual novel by the developer ASa Project and published by NekoNyan. The original Japanese name is "Ren'ai, Karichaimashita".
This visual novel is for fans of slice of life comedies with high school heroines. Fans who love multiple endings and branching plots will also enjoy Koikari.
There are 5 main girls and 2 extra girls to choose from in Koikari. Completing every route will provide you with a complete and uncensored gallery.
The extra menu has replayable scenes, a music gallery, and of course stills from each route. All the scenes and pictures are uncensored.
Story / setting
Our protagonist, Yuki, has a single hope he relies on… "Money will give my sister happiness."  So he's given up his free time to work several part time jobs.
He wants to graduate and get a full time job but his sister brings up an ultimatum. If he doesn't go to college, she won't either.
Now he has to save money for a higher education so he signs up for a shady sounding website. "Human employment rentals."
He's unsure of what that even means. But then several girls ask him to pretend to be their boyfriend… Is this what a human rental service is?!

Sample CGs
English Download Editions
Renai Karichaimashita: Koikari – Love For Hire is available for English download on MangaGamer, JAST, Denpasoft, Fakku, Nutaku, and NekoNyan. Koikari is also available on Steam with a 18+ patch here.