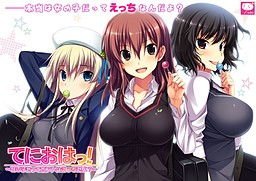 Description & Story
Tenioha is the debut visual novel by rootnuko+H, released in English in late 2017.
In the game you play through the eyes of Hiroto Iizumi, a normal high school student. A big fan of bishoujo games and surfing the web. And although he wishes for a more interesting life, he doesn't really feel like pursuing one.
His classmate Ami is one of the most popular girls in the school. But has so far rejected all guys that approached her. She also happens to be in the same club as him, the Intellectual Culture Research Club.
Little did Hiroto know, that his dull and boring life was going to take such a turn.
It begins slowly, with a game of strip Mahjong with the club president. But before long, who knows what you'll be doing to the various beautiful club members…
Tenioha English Download Edition
Tenioha has been published in an English download edition by rootnuko itself, available at Nutaku here. The full English title is "Tenioha! Girls Can Be Pervy Too!".
Sample CGs
Walkthrough
http://www.otakulair.com/english-visual-novel-walkthroughs/tenioha-girls-can-be-pervy-too-walkthrough-rootnukoh/