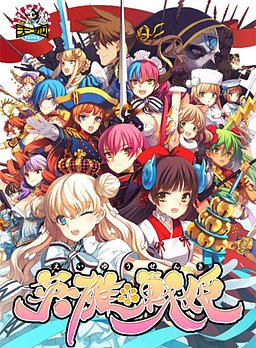 The English uncensored PC edition of Tenco's world conquest game Eiyu*Senki is now available for pre-orders from J-List's website here. Available versions include a regular edition, a limited edition, and an artbook including collector's edition.
The PC release has been in the making for a while now by localization company Jast USA. A release date itself has unfortunately not yet been added, but having pre-orders available is always a good sign.
Eiyu*Senki
Have you ever played Rance turn-based strategy games like Sengoku Rance and Sangoku Hime? Do you like having a huge cast of female characters? Do you like the idea of conquering the world? Then Eiyu*Senki might just be the game for you.
Eiyuu*Senki is a turn based strategy/simulation game by Tenco. Set in a fictional past which bears resemblance to real world history. You'll play as the leader of "Zipang" as you conquer the rest of the world. The game features an enormous amount of female characters that you can win over to your side to fight for you. Fighting takes place in a world map with locations spread all over the world, including Asia, Europe, Africa, North America, and South America. And of course several of the girls will grow closer to you as you conquer more of the world.
Editions
The PC edition will be available in 3 editions. A regular edition, a limited edition, and a collector's edition. Each edition will also include the same items as the edition in the lower tier.
The regular edition will come with the game on DVD, a manual, and a download Card. With the limited edition you'll also get the original soundtrack CDs (2 Disc), and 6″x9″ character art cards. Finally, the collector's edition will include a 60 Page Artbook.
Prices start at $40.00 USD for the regular edition.
Sample CGs (NSFW)
Gameplay screenshots