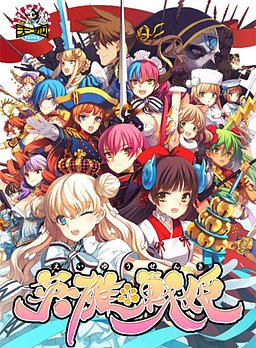 Brand(s):
Fruitbat Factory , JAST USA , Tenco
Description & Story
Eiyuu*Senki is a turn based strategy/simulation game by Tenco. Set in a fictional past which bears resemblance to real world history. You'll play as the leader of "Zipang" as you conquer the rest of the world. The game features an enormous amount of female characters that you can win over to your side to fight for you. Fighting takes place in a world map with locations spread all over the world, including Asia, Europe, Africa, North America, and South America. And of course several of the girls will grow closer to you as you conquer more of the world.
English PC download/package edition
An English uncensored PC download and has been published by JAST in cooperation with Fruitbat Factory, who released a translated PS3 version in 2015. Several editions are now available for order (or to download), including Limited Edition and a Collector's Edition.
Gameplay movie
This gameplay movie will give you a good impression of the game's systems.
Sample screens
Playstation 3
A Japanese all-ages Playstation 3 version has been released and is available at Play-Asia.com, or in a limited edition.
Playstation vita
There is also a Japanese Playstation Vita version available Play-Asia.com, as well as a limited edition.
OP / Demo movie